---

Welcome to the official blog
and website of
Sheila and the Insects

HOME
PREQUEL BLOG
ALL LYRICS BLOG
(new) MAUDE video
QUICK TO PANIC video
CLEVER AS YOU video
TOMORROW NOT TODAY video
QUICK TO PANIC (MyxMO!)
HAPPENSTANCE (MyxMO!)
NAPSTER SONG LINKS
PESM - DOWNLOAD
MANIPULATOR - DOWNLOAD
FLOWERFISH - DOWNLOAD
SOFTLY - DOWNLOAD
---
---
MOST READ ENTRY
Bisrock brouhaha
---
ARTICLES ON STARTING YOUR OWN ROCK BAND
Things you should know
Tips on playing in a rock band
Dirty tricks for rock bands
PICK ENTRIES
Cebu music's golden age
Handuraw farewell
Aktibistas & rakistas
Bisrock brouhaha
Winning attitude
The killing time
Dirty tricks for rock bands
Sex, drugs & rock 'n roll
Tips on playing in a rock band
The Philippine Bandemic
Message to the disenchanted
I am a believer
Popular notion
Media-slaves
A dirty game
Mao caps and shaved heads
Surprise number
Unfairly labeled
Art or entertainment
The black army
Things you should know about starting a rock band
Quiet revolution
Proud arrogant prick
The greener grass
Love and rock
The Gweilo's experience
Rocklandia
On band etiquette
On Cebuano lyrics
On Cebuano fans
On music piracy
On the stage
On indie
Official etymology/who's Sheila?
Sex in music
Money in music
The death of indie
The universal axiom
Addendum: recalculation
Physics of creative momentum
Reason for being
Advertising vis-à-vis music
Ian Zafra mugged
Of chicken holes...
Eight
Doing Disco
Local, vocal, proud?
Killing the disco
[ back to main page ]
---
READ OPENING ENTRY

My most hated band
---
WHAT THEY SAY
ABOUT THE BAND
"I didn't like the name but it doesn't matter. They played great band music."
- Nina Araknida
Sunstar, Flip / September 15, 2002
"Few rock bands in town could stand at the crossroads of a dynamic and evolving music scene and knock down the high walls that divide music genres and audiences with as much success as Sheila and the Insects. "
- Ronald P. Villavelez
Yup!, Issue 1.03 / November 2001
"Sheila & The Insects' music is new wave-influenced post-punk rock music that is considerably heavy yet still melodic "
- Cris O. Ramos Jr.
The Manila Times / May 31, 2003
"What does an indie band do with the oft-maligned mix of rock and new wave? In the case of Cebu-based Sheila and the Insects, plenty."
- Ganns Deen
PULP , PulpReviews / Issue 13, March 2001
---
Orven Enoveso
Ian Zafra
Jerros Dolino
Sheila and the Insects
Promote Your Page Too
---
IAN'S BLOG
My Favorite Sins
MY OTHER BLOGS
Vintage SATI
SATI lyrics
My Writing Exercises
Text jokes
BLOG LINKS
99.5RT Sunday Sessions
CD review
The Pin-up Girls
Girl in Park
Squirrel Talk
Not quite indie
Two is equal to zero
SITE LINKS
SATI MySpace Page
SATI Auralgasms
SATI Yahoo Group
SATI Purevolume Page
SATI Fiestamundo Page
SATI Friendster Page
IndieCulture Online
Last.fm
Madbanana.tv
NA Records
DMC Ringbacks
Wats
Filipino Links
RockEd
Diaper Dog Pictures
Trekant Film
Eksena.net
BAND LINKS
Cattski
Hastang
Julieplug
Jr. Kilat
Orange and Lemons
Smooth Friction
Squirrel Talk
Typecast
Urbandub
Wolfmann
Ciudad
Missing Filemon
JUST FOR KICKS
Real band riders
Faking indie expertise
The Onion
How to dance properly
Shaving tip
INTERNET RADIOS
RadioGetsWild
IndieRadioLive
Pinoy Radio
Go Listen Live Indie Music
PALS
SATI Pimp
Moon child
Doogie
Oppression
Kady Gurl
Rxprozacstination
Christine
Torch the skies
Sunnystateofrelief
Last dodo bird
Pia
Inkblots
Indieridley
Rhea
TruePinoy
Guile
Corinne
Divine
MadKane
Pinoy Investing
If you've got a blog you want linked here, let me know. Email me now
---
Discography
---
SATI myGlobe ringback tones
TO DOWNLOAD:
Simply text [CODE] to 2332. Ringback will be activated within the day. P30 for 30 Days or 1 peso per day.
CODE
SONG TITLE
DA494
Everyday Drive
DA493
Count With Your Fingers
DA492
Your Comedy
Pre-listen for FREE at
www.dmc.ph
---
THIS MONTH'S LYRICS
Softly
Sheila and the Insects
Originally by Apo Hiking Society
:: Download SATI version ::
:: Original Apo version ::
Written by Jim Paredes


Softly, as the morning sun
Comes through my window pane
Thoughts come to me
Memories of you fill my mind and I smile
So gently, and my world transforms
Into a merry carousel
Turning me round
Bringing me back to the place where I found ...
You there, time could have stood still and then
We'd spend all our moments to share
The dreams that we've known sometime, somewhere
And as, we go through the days
Remembering the love we made
I know that you'll stay
Bringing me more than what mere words can say
I know, that time can stand still and then
We'd spend all our moments to share
The dreams that we've known sometime, somewhere.
I know, that time can stand still and then
We'd spend all our moments to share
The dreams that we've known sometime, somewhere.
Notes:
This song appears in the album The Best of Kami nAPO Muna 2CD+DVD.
---
Site Counter
---
Thursday, July 13, 2006
Sex, drugs, and rock and roll
The three go together like a ménage a trois, hot, wild and passionate. It's the ultimate rock cliché. So overused that no one dares wear it on a T-shirt for fear of being labeled uncool. But a cliché it is. Our parents believed it and they believed it too much. To them, sex is dangerous, drugs kill, and rock and roll is evil.
An old friend of mine who played guitar for a band, his name is Chev, told a scary story once. He was practicing his electric guitars in his room and, typical of him, had gotten so into the rock and roll moment. Gyrating and twisting all around like a guitar god on fire. He was throwing licks like mad and had gotten orgasmic. He was way up there in his guitar-driven bliss when by chance he opened his eyes to suddenly find himself surrounded by middle-aged people led by his mom, arms outstretched with their palms facing him all mumbling incantations. Apparently, they had been praying over him for some time. He certainly was not devil-possessed as they must have suspected but he might as well have been from the scare and trauma he suffered.
How misunderstood rock and roll is to most parents showed its extreme form in Chev's story. That is why parents would rather pay for piano lessons than loan us the money to buy a cheap, pawned electric guitar. I further suspect that this same fear is what keeps the ballet schools in business. If parents can't keep their daughters away from the stage and spotlight, at least they can make them wear tights and Pointe shoes rather than skins and DM boots. For many maybe, it's a fair trade-off never mind the money spent for tuition. Besides, recitals, aside from graduations, are what parents live for, right?
I survived my teenage years intact in spite of my parent's anti-rock and roll bias and my measly allowance. And though I will never forgive my mother for happily buying that crappy amateurish digital Yamaha organ for my sisters while I begged and groveled for a loan so I could buy my electric guitar, I survived still. My mother could call it part of building character. I call it favoritism. And fear of the rock and roll evil.
Apparently, my mom didn't relish the idea of her son sporting long hair and playing overdriven guitars. Fate played a funny twist on me as, years later, I end up sporting a shaved head and playing chorus-driven guitars instead. Not as ugly but maybe just as scary if I didn't keep my day job. Well at least I'm tattoo-free. For now.
My mother, like my neighbors' mothers, had also paid for piano lessons. My sisters gamely showed enthusiasm, feigned or otherwise. I on the other hand, never got even just a subsidy for my replacement strings. Those years, I would attribute the dull sound of my old rusted strings to "rock attitude". Besides, wasn't money the antithesis to the rock and roll lifestyle? That was enough to comfort me then.
Like we cared how we sounded back then anyway. Back then, it was all about rebellion and attitude. I joined the band because I thought it was cool. The love of music was never a reason. I didn't know anything about making music to begin with anyway. I only started to worry about actually sounding good when it suddenly struck me in the middle of my first gig that up there on stage in front of the people, you actually needed to sound good.
So I sang, or at least tried to. I know I sucked that first time. But I survived with the determination to actually better my craft. Fast-forward to more than ten years after, I think I'm finally succeeding. The journey was long and hard, and yes, along the way, as I'm sure my parents had had worried, there were the trappings and the temptations. True to the cliché's promise, it couldn't be Rock and Roll without the sex and the drugs.
Yes, there were the drunken parties, the pseudo-orgies, and the psychedelic sessions. On our heydays, yes we had those, every opportunity to sin was laid, but I survived. With a big grin from ear to ear. Yes, the cliché was true about the triumvirate being dangerous, suicidal, and evil, but in the end, I suspect my mom's character building must have worked because surprisingly, I turned out ok. So holding out on a kid's allowance does have its merits. Surprise, surprise.
Today, I hold a fancy corporate job running a dozen young and talented underlings collectively called the marketing and communications department plus I hold a teaching post at the university. In school listening to myself sometimes, I'm even surprised to find I actually sound academic and learned.
Maybe the trials and the trappings of the rock and roll lifestyle built up my character more than the constricted allowance. Too hard to determine. Too close to call. In any case, I had grown to like rock and roll. Unlike my sisters who grew up to like boys and promptly forgot about the crappy Yamaha.
Not surprisingly, it is the Yamaha organ that is now gathering dust in an unused room in my parent's house while it is my Stratocaster that continues to gather scratches every weekend gig.
Posted at 07:51 pm by
bisoy
>Entry link
Tuesday, June 27, 2006
Sheila and the Insects gig dates:
6/30
- JAM Nites @ Bluewave, Macapagal Blvd., Pasay City, 9pm
- Flowerfish Party @ 6 Underground, Makati city, 11:30pm
with: Southern Grass, Pumping Pluto, Pinas, Happy Meals and Monsterbot
- Fete de la Musique, SM Mall of Asia, West Wing, 1am
7/01
- RockEd Concert @ Eastwood Main Plaza, Libis, QC, 8:30pm
- Guilles Bar, Tomas Morato, QC, 10pm
- Ninja Kiss Production @ Saguijo Cafe, Makati city
with: Radioactive Sago Project, Bagetsafonik, Analog, Sundownmuse and Brigada
7/02
- Anniversary Party @ Gweilos, Eastwood, Libis, QC, 9:30pm
with: Menaya, The Pin-up Girls, Dream Kitchen, Pumping Pluto,
Helen and Spring Boutique
7/04
- WATS Party (exclusive) @ BBQ.com, F. Cabahug st., Cebu city
7/05
- Club VUDU, Crossroads, Cebu city
with: Powerspoonz, Tabularaza, Gasulina, and Urbal
7/07
- Handuraw Cafe, Mabolo, Cebu city
7/08
- Kahayag Cafe, Mabolo, Cebu city
7/22
- X-Series, Kasadya, Cebu city
*schedules may change w/o prior notice
Posted at 08:53 pm by ian
>Entry link
Tuesday, June 20, 2006
Useful tips on playing in a rock band
Random tips on playing in a band from an accidental band player who has learned most of his lessons the hard way:


Tip no. 65
If you want to learn to play an instrument, the best way to do that is by joining a band. Especially if you're like me, an average guy, who doesn't have the natural talent nor the patience and the dedication to learn an instrument well. Just dive in and jam even if you know only four chords. When you've got an instrument slung over your back and you're in front of a live audience, you'll quickly discover that you actually have to sound good and that the rock and roll poses you practiced only half mattered. Necessity is one damn strong motivator.
Tip No. 129
Never wait until you are totally ready before joining a band. If you already have a band, never wait until you are totally ready to play gigs. What I've learned all these long years is that you never really are. Go ahead and just do it.
Tip No. 9
If you make a mistake on stage, don't show it. Don't smile or appear embarrassed. If your bandmate screws up his part, don't look at him disapprovingly. Don't react. Just try to recover and keep playing. The thing I've learned after years of playing is that most listeners won't know at all from listening that you've made a mistake. The average pair of ears don't know shit about syncopation, flats and sharps or muted notes. So don't cue them in on it. In many cases, half of them will be too drunk to notice anyway.
Tip No. 18
Before playing your first song, always tune your guitars using a tuner. Don't do it by ear. No pair of ears is better than a decent tuner.
Tip No. 68
If you're the vocalist, don't eat salted peanuts before a show.
Tip No. 82
Never plagiarize. You'll never get away with it.
Tip No. 77
If you're a vocalist, you should know about King To Nin Jiom Pei Pa Koa. If you don't already, ask about it from a Chinese drugstore. It could save your life one day. Or at least your next gig.
Tip No. 3
No matter what anyone says about ultimately, what's important is your music; I'll say this for the record: looks count. If you think you may be just a rock band playing your own stuff, you should learn that essentially, a gig is still a show, and when in show business, presentation is everything. So take some effort to look good. Even if the look you want to achieve is that of someone who doesn't care about his looks, you've still got to put some effort to it. Some might want to show up wearing shirts that look vintage and undersized but you should take care that the shirt doesn't actually look shrunken and used. It's a delicate balance. Learn it and master it.
Tip No. 1
Practice. You'll never play a perfect set, believe me, but practice anyway.
Tip No. 92
Before a gig, especially a major one, learn to set positive instead of negative goals. Instead of declaring what you don't want to happen like I hope I don't mess up my lead or I hope I don't crack my high notes, set specific and realistic goals that you can actually do something about. Some examples would be: I want the audience to see that I'm loose and confident out there, or I should move around more and have fun on stage. Don't focus on the pitfalls you want to avoid. Think instead about the heights you want to scale. Instead of setting a floor you don't want to go under, set a ceiling you want to surpass. Negative goals make you worry. Positive goals make you want. With negative goals, you can't wait to get off stage. With positive goals on the other hand, you can't wait to get on.
Tip No. 99
Always unload before going up on stage. Take a quick backstage trip to the urinal a few minutes before call time. You'll regret not having done so when you feel the need to pee halfway through a long set. The audience might not know the difference from your contorted face whether you're deep into the emotions of the song or that you're actually just struggling to hold your bladder, but you will!
Posted at 06:27 pm by
bisoy
>Entry link
Friday, May 26, 2006
Call times tonight:
8:30 pm – Saguijo
10:30 pm – 6 Underground
12:00 pm – Gweilos Eastwood
Gasolina was playing like they owned the place. Everyone seemed to enjoy the show although I still thought their levels were just a tad bit too much for everyone's ears that night. We were up next so I slipped away from where I was sitting and picked my way through the crowd to the bar and ordered tap water and some salt. The nightly shows had taken their toll on my voice and I needed to sooth my throat. Because I had been in such a hurry earlier that night, I had left my pei pa koa candies which should have been the perfect remedy. For now, I had to improvise.
Taking long but small sips of salinized water, I discovered, works wonders for tired vocal chords. Of course, it helps you retain water and keeps hangovers in check too, but tonight, I wasn't drinking much if at all. We still had another show after this so I had to stay sober.
This was our first time to play at 6Underground and that much I said so, on my opening spiel. The place was almost full. It was packed at the bar and most of the tables were occupied with quite a few unoccupied ones closest to the stage where, I surmised, the people avoided for the ear torture. Fair enough. We did make sure though that we kept our levels only as loud as we really needed to be. Not a decibel more.
There's a line that goes, if it's too loud, you're too old. But to me it ain't the age. It's the wisdom that comes with it, as against the brash stupidity of youth. No music is worth damaging your ears for. Besides, how can you appreciate any music if everything sounds muddy and too painful. So we consciously kept to comfortable levels. Good music should be enjoyed, not suffered.
That must have helped. Plus the audience's good vibes. Whatever mix of factors and star alignments contributed, that show was one of our best. Too bad we had to leave immediately afterwards. We still had one last show to do before we could call it a night.
Posted at 04:49 pm by
bisoy
>Entry link
Thursday, May 25, 2006
It was already past midnight when we finally got to play at Mayric's. Our Saguijo set earlier that night kept us from coming earlier. Thankfully, the small crowd that night waited and stayed for our set. Among the songs we played that night was 'Monolove'.
Monolove snippet

Posted at 12:49 pm by
bisoy
>Entry link
Wednesday, May 24, 2006
Although it wasn't really planned that way, it turned out like it was a Manila tour of Visayan bands: three bands from the Southside, Gasolina and Tabularaza, both from Cagayan de Oro, and SATI from Cebu. We had arrived in Manila at roughly the same schedules so we ended up with several bar gigs where all three of us played together. Tonight all three of us played at BigSky Mind.
I remember my first BigSky experience; I had met no less than Pepe Smith himself. So surreal.
Click for old blog entry
. That was like five or six years ago. Back then, only about six people not counting our neighbors in Pagasa, Quezon City, had probably heard about our band in Manila so naturally, we weren't playing then. We had just dropped by to check out the place which had just opened then.
We had come to watch the bands then. Now, it is we, among the other bands tonight, whom the people have come to watch play. Nice the way things turn out after a few years. I almost feel sorry it took us this long to get to where we are. No point dwelling on the ifs and the what-could-have-beens though. Tonight we should just play and have fun.
Fast forward. By the time we end our set with 'Quick to Panic', Big Sky's audience was really into it. First time this week we absolutely kicked ass on our set. BigSky rocks bigtime. So did we.
Posted at 07:25 pm by
bisoy
>Entry link
Saturday, May 20, 2006
It felt like it was going to be the first time for us to play at Saguijo. Not that it was going to be. It wasn't even going to be our first Admit One appearance yet for all that, while waiting for our turn to play, we all felt the ticklish excitement and eager anticipation usually experienced by overeager virgin teenagers.
Why our unsettled demeanor? Before tonight, we had never played a Saguijo gig to our complete satisfaction that is why. Our past gigs in Saguijo we're always a harrowing experience not for the production or the crowd but because on our visits before, we had other gigs to catch afterwards so we'd end up hurrying and scurrying about. In fact, the last time we played, we had to cut our set short by 3 songs. I remember one time we had to leave the venue in such a hurry I had to change my sweaty shirt on the road inside the taxi.
So, we had never felt at ease and comfortable when we'd finally take the floor to plug our guitars. No wonder we couldn't get our levels right. We couldn't focus. When you don't have enough time to savor a beer at the usual leisurely pace, you'll end up antsy on stage. Never a good thing especially in front of a very discerning Saguuijo / Admit One crowd.
Tonight was different. We had arrived early enough to get settled in. No hurry at all. The San Mig lights tonight never tasted so good. The company was even better. Our good friends Vin and Kris Dancel were there. Diego Mapa, who had just days ago been in Cebu and had had the chance to watch our gigs there, also arrived early for his Cambio duties.
By the time our turn to play had come up, we all were completely at ease. Just like we were hanging out back home in Handuraw Café. Somehow, the floor seemed less cramped, and the stage sound felt better. Later, I was told, they actually did have a sound system upgrade so I wasn't really just imagining it. The feel up there was totally different from our previous Saguijo appearances. All four of us felt it even before we played our first song. We had missed playing for a Manila crowd for too long that it took us a while to get reacquainted with the exhilaration.
When I finally announced ourselves to the Admit One audience who now had gathered around us, we were quickly welcomed with cheers and applause. I knew then we were set.
Posted at 11:19 am by
bisoy
>Entry link
Friday, May 19, 2006
The national summit on band breakups
The convenor was Vin Dancel of Twisted Halo, the band that was days away from playing their last gig together. That was how our small drinking session turned out to be, an open forum and discussion on band break-ups.
We had just finished our last gig for that Friday night at the Jam Radio Concert at the parking lot of Greenhills. We were seated inside Krokodile or was that what the restaurant was called? The kriminals had invited us to drop by after the show. Not really having any plans after the show, we walked through the crowds and found our way to their perch for a couple of drinks.
Now, a couple of hours or so later, I found myself indoors, tired but satisfied with a cold beer in front of me in the company of a small group of friends. Looking outside from behind the glass, I could clearly see some distance away, the stage hands slowly and methodically pulling down the stage riggings, the only visible remains of what was just hours ago, a noisy gathering. The other restaurant patrons that night had all been seated outside to get the best view of the concert from the restaurant's strategically overlooking balcony. A few were still actually lingering for late dinners or to finish last orders.
Inside, however, we had the whole restaurant to ourselves. Vin shared his story on Twisted Halo's countdown to breakup, not at all in poignant terms but rather like an objective narrative on a band that had lived its purpose. Certain crustaceans have been known to outgrow adopted shells so much so that they have to discard it and explore the oceans unprotected to look for a new bigger shell they can live in and continue to grow. At some point, things have to move on. Twisted Halo decided now was that time.
Each of us there that night had our own stories to share about band breaking up or evolving. Kris on Fatal Posporos; Ian and me on the old Sheila and the Insects, Chuck on Nuncyspungen. Luzon, Visayas, and Mindanao. Different places and different cultures yet similar stories. Personalities may change, but the music goes on. You can never kill a good thing like good music.
Vin is already looking for a new incarnation for his music. Of course. That night, we raised a toast to Twisted Halo, celebrating the end of an era and looking ahead to the beginning of something new. In loving memory of the fearless exploits of the Twisted Halo, cheers!
Posted at 01:17 pm by
bisoy
>Entry link
Wednesday, May 17, 2006
I still find the Manila audience more appreciative, at least outwardly, of our music than their Cebuano counterpart. Every time we play in Manila, any gig, the response is generally warmer than here in Cebu. Prophets don't preach in their hometowns because no one listens to them there. If our situation is a reflection of this 'prophet' syndrome, maybe that explains it. But I believe it has more to do with the differences in local culture. I've written before on the differences.
On Cebuano fans
In any case, I enjoy playing in both but for different reasons. Since it has been quite some time since we last played in Manila, the excitement there is naturally quite more and building as Friday draws nearer. Aside from the sheer pleasure of playing to fresh audiences, we get to play a couple of our new songs aside from the 'Flowerfish' set.
To those who will catch us in our gigs in Manila, let us know what you think of our new songs: 'Monolove' and 'Pretty loser' which we'll be playing in our sets. It's sort of like a test run for the newer stuff we're writing for our next album.
Here's our schedule, which may change without prior notice:
MAY 19 – FRIDAY
– Gweilos, Libis,QC – 10 pm
– Greenhills, G-Strip 1, Jam Radio Anniversary
MAY 20 – SATURDAY
– Saguijo (Admit 1) Makati – 10.30 pm
MAY 21 - SUNDAY
– Jam Sessions
MAY 23 – TUESDAY
- Gweilos, Libis, QC
MAY 24 – WEDNESDAY
– Big Sky Mind, QC
MAY 25 – THURSDAY
– Mayrics
- Saguijo
MAY 26 – FRIDAY
– 6 Underground, Makati
MAY 27 – SATURDAY
– Saguijo Anniversary, Saguijo, Makati
Posted at 11:38 am by
bisoy
>Entry link
Sunday, May 14, 2006
Rhythmic Revelry at Club VUDU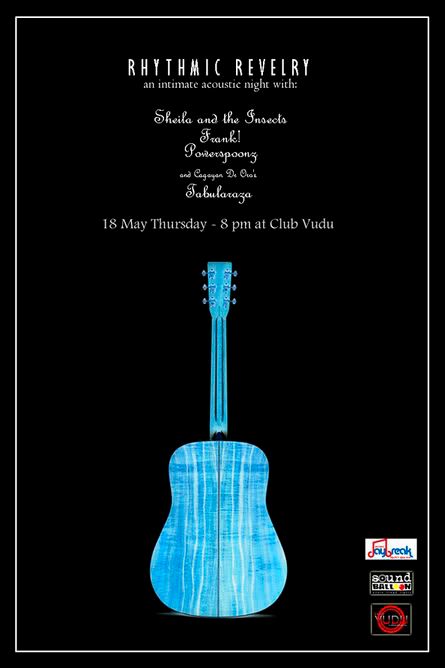 Posted at 10:57 am by ian
>Entry link