---

Welcome to the official blog
and website of
Sheila and the Insects

HOME
PREQUEL BLOG
ALL LYRICS BLOG
(new) MAUDE video
QUICK TO PANIC video
CLEVER AS YOU video
TOMORROW NOT TODAY video
QUICK TO PANIC (MyxMO!)
HAPPENSTANCE (MyxMO!)
NAPSTER SONG LINKS
PESM - DOWNLOAD
MANIPULATOR - DOWNLOAD
FLOWERFISH - DOWNLOAD
SOFTLY - DOWNLOAD
---
---
MOST READ ENTRY
Bisrock brouhaha
---
ARTICLES ON STARTING YOUR OWN ROCK BAND
Things you should know
Tips on playing in a rock band
Dirty tricks for rock bands
PICK ENTRIES
Cebu music's golden age
Handuraw farewell
Aktibistas & rakistas
Bisrock brouhaha
Winning attitude
The killing time
Dirty tricks for rock bands
Sex, drugs & rock 'n roll
Tips on playing in a rock band
The Philippine Bandemic
Message to the disenchanted
I am a believer
Popular notion
Media-slaves
A dirty game
Mao caps and shaved heads
Surprise number
Unfairly labeled
Art or entertainment
The black army
Things you should know about starting a rock band
Quiet revolution
Proud arrogant prick
The greener grass
Love and rock
The Gweilo's experience
Rocklandia
On band etiquette
On Cebuano lyrics
On Cebuano fans
On music piracy
On the stage
On indie
Official etymology/who's Sheila?
Sex in music
Money in music
The death of indie
The universal axiom
Addendum: recalculation
Physics of creative momentum
Reason for being
Advertising vis-à-vis music
Ian Zafra mugged
Of chicken holes...
Eight
Doing Disco
Local, vocal, proud?
Killing the disco
[ back to main page ]
---
READ OPENING ENTRY

My most hated band
---
WHAT THEY SAY
ABOUT THE BAND
"I didn't like the name but it doesn't matter. They played great band music."
- Nina Araknida
Sunstar, Flip / September 15, 2002
"Few rock bands in town could stand at the crossroads of a dynamic and evolving music scene and knock down the high walls that divide music genres and audiences with as much success as Sheila and the Insects. "
- Ronald P. Villavelez
Yup!, Issue 1.03 / November 2001
"Sheila & The Insects' music is new wave-influenced post-punk rock music that is considerably heavy yet still melodic "
- Cris O. Ramos Jr.
The Manila Times / May 31, 2003
"What does an indie band do with the oft-maligned mix of rock and new wave? In the case of Cebu-based Sheila and the Insects, plenty."
- Ganns Deen
PULP , PulpReviews / Issue 13, March 2001
---
Orven Enoveso
Ian Zafra
Jerros Dolino
Sheila and the Insects
Promote Your Page Too
---
IAN'S BLOG
My Favorite Sins
MY OTHER BLOGS
Vintage SATI
SATI lyrics
My Writing Exercises
Text jokes
BLOG LINKS
99.5RT Sunday Sessions
CD review
The Pin-up Girls
Girl in Park
Squirrel Talk
Not quite indie
Two is equal to zero
SITE LINKS
SATI MySpace Page
SATI Auralgasms
SATI Yahoo Group
SATI Purevolume Page
SATI Fiestamundo Page
SATI Friendster Page
IndieCulture Online
Last.fm
Madbanana.tv
NA Records
DMC Ringbacks
Wats
Filipino Links
RockEd
Diaper Dog Pictures
Trekant Film
Eksena.net
BAND LINKS
Cattski
Hastang
Julieplug
Jr. Kilat
Orange and Lemons
Smooth Friction
Squirrel Talk
Typecast
Urbandub
Wolfmann
Ciudad
Missing Filemon
JUST FOR KICKS
Real band riders
Faking indie expertise
The Onion
How to dance properly
Shaving tip
INTERNET RADIOS
RadioGetsWild
IndieRadioLive
Pinoy Radio
Go Listen Live Indie Music
PALS
SATI Pimp
Moon child
Doogie
Oppression
Kady Gurl
Rxprozacstination
Christine
Torch the skies
Sunnystateofrelief
Last dodo bird
Pia
Inkblots
Indieridley
Rhea
TruePinoy
Guile
Corinne
Divine
MadKane
Pinoy Investing
If you've got a blog you want linked here, let me know. Email me now
---
Discography
---
SATI myGlobe ringback tones
TO DOWNLOAD:
Simply text [CODE] to 2332. Ringback will be activated within the day. P30 for 30 Days or 1 peso per day.
CODE
SONG TITLE
DA494
Everyday Drive
DA493
Count With Your Fingers
DA492
Your Comedy
Pre-listen for FREE at
www.dmc.ph
---
THIS MONTH'S LYRICS
Softly
Sheila and the Insects
Originally by Apo Hiking Society
:: Download SATI version ::
:: Original Apo version ::
Written by Jim Paredes


Softly, as the morning sun
Comes through my window pane
Thoughts come to me
Memories of you fill my mind and I smile
So gently, and my world transforms
Into a merry carousel
Turning me round
Bringing me back to the place where I found ...
You there, time could have stood still and then
We'd spend all our moments to share
The dreams that we've known sometime, somewhere
And as, we go through the days
Remembering the love we made
I know that you'll stay
Bringing me more than what mere words can say
I know, that time can stand still and then
We'd spend all our moments to share
The dreams that we've known sometime, somewhere.
I know, that time can stand still and then
We'd spend all our moments to share
The dreams that we've known sometime, somewhere.
Notes:
This song appears in the album The Best of Kami nAPO Muna 2CD+DVD.
---
Site Counter
---
Wednesday, May 10, 2006
Best indie act nomination

Nobody informed us of our nomination officially. I only believed it myself when I actually saw the announcement on MYX. A wonderful surprise for the band for sure especially given that we don't have much in the way of lobbyists or promoters in Manila. It's a long shot since were up against well established bands like Imago, Sandwich and Radioactive Sago Project. So I'll just soak it up while it lasts. Win or lose, the nomination in itself is a big honor.
If you think we deserve more, you can vote for us.
text: MMA 54 and send to 2366
You can vote up to once every day up until the awards show I think, which is in June 6 if I remember it right. I personally don't expect us to actually win in a popularity contest which is what this basically is. But who knows. Maybe wonderful surprises come in two's.
I know stranger things have happened in the band.
Posted at 10:11 am by
bisoy
>Entry link
Monday, May 08, 2006
A musician's worst fear, aside from being pelted with water bottles on stage, is losing one's instrument. Exactly what Ian experienced last Saturday night some time after we played our set for the Levi's 501 concert. He was getting ready to leave when he noticed his guitar was nowhere to be found.
Security was called and a frantic search was made. How can such a big thing like a guitar go missing. Unless it was stolen. Word quickly spread in the backstage. Just when things seemed hopeless. It turns out, Danny the guitarist of Smooth Friction had mistakenly picked up the wrong gig bag and had carried if off when he left the venue. It was returned to a visibly relieved Ian shortly.
So it wasn't a heist after all but an honest mistake, 'dinanghag' in cebuano, but even then, a word of caution to musicians when playing in a venue where security is lax, keep your stuff secure. No paying gig is worth losing an instrument for.
----------------
Thank you to everyone who came to watch us play.
Posted at 11:24 am by
bisoy
>Entry link
Thursday, May 04, 2006
2 imaginary characters are talking in my head. I don't know their names but for the purpose of recording it here, Orven 1 and Orven 2 will do. This conversation happened during a long enough spell of silence as Ian and I drank beer to celebrate…well, nothing really…except that maybe we had another satisfying band practice session.

Orven 1 - How many songs are we up now?

Orven 2 - Four, yeah, four. Nothing final though, in terms of arrangement.
Monolove's closest to being finished.

Orven 1 - Cool.

Orven 2 - I liked that new one we just jammed. Pretty loser.

Orven 1 - Of course you should. I wrote it.

Orven 2 - Yeah but it was my concept

Orven 1 - Coming up with a title for a song isn't a concept.
At most, it's just a line.

Orven 2 - Yeah right, and you call what you wrote lyrics?
Those were the stupidest lines you wrote, ever.

Orven 1 - Not stupid. Simple. That was very deliberate, mind you.
I'm tired of writing cryptic shit like Violet and Luna Grace.
The real challenge now is restraint. Something that more people
can relate to. That's the real mark of talent, keeping it simple.

Orven 2 - So you're saying your audience don't know better so
you're dumbing down your lines? That's crap

Orven 1 - No. I'm just saying I'm tired of writing cryptic shit.

Orven 2 - The beer's getting warm. Finish that.
And it's getting late. We should be going.

Orven 1 - I'm just tired of writing cryptic shit. That's all it is!

Orven 2 - Finish your beer and let's get going.

Orven 1 - Fine.

We finished a little past midnight I think. Here are the lyrics to the stupid / simple song.

PRETTY LOSER

Do you know the way?
Do you know the turns and the side roads?
The turns and the side roads that lead all the way to your heart

People say you're pretty
People say you're pretty much an angel
An angel but dare I say you seem to believe it too much

REFRAIN:
And all the neighbors think that you're something
To some extent I tend to agree
But if by chance you end up alone well
I think I might take you in for free

CHORUS:
You're such a pretty loser
That's why I want to make you mine
A pretty pretty loser
You're so a loser but I don't mind


You want to steal the show
You think you know it all and a lot more
But girl, don't you think you've stretched your drama too far

I can tell you all your dirty secrets
See through all your lies
People scare me, people warn me
People ask me ask me why

Yaddah yaddah yaddah yaddah yaddah
Blah blah blah
Yaddah yaddah yaddah yaddah yaddah
Blah blah blah

CODA:
Can't you see it's such a complicated task?
To dissect and study the anatomy of what you ask of me

Should you think the issue's academic
(I beg to beg to disagree)
Should you think my thoughts are pornographic
(Oh will you will you marry me)
I hear too many random allegations
(I think I'm being crucified)
I really think I ought to stop…

And sacrifice my social life

Posted at 07:39 pm by
bisoy
>Entry link
Wednesday, May 03, 2006
I realized too late I was hounding the popcorn bowl from the other guys in the room. Engrossed with the story, and partly because you had to keep your eyes glued to read the subtitles, I totally forgot to pass it around. No one seemed to mind though.
I was so into the movie that when in the middle of the story, our song suddenly plays, I am suddenly knocked off-balance. It felt eerie to suddenly hear our song, 'Maude', a song so familiar to me especially since I had written it myself, playing within a movie.
I felt so queasy, I almost thought it was the pizza and beer I had had. Apparently, to everyone else in the room, the song fit in perfectly. Like it was made for the movie. SooYeon Kim, the producer certainly thought so. So did Jonas who made the movie.
This all happened like a couple of months back at least. I recalled it all because SooYeon Kim just emailed me to say their distribution company is currently peddling the movie in Cannes and that they had made a trailer for that. We're crossing our fingers. The music video would have to follow later than planned.
Click to see trailer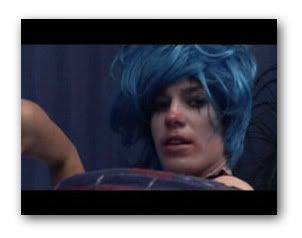 After the special screening we did, one of the first things SooYeon Kim asks me is did I think the movie hit the right audience demographic that SATI was also trying to reach. Without skipping a beat, I said yes, emphatically. "Anything with sex in it is hitting the right demographic".
Posted at 06:52 pm by
bisoy
>Entry link
Tuesday, May 02, 2006
Once again, the cycle of pop culture has caught up again with rock music. Once again, riding the crest are rock bands enjoying a renewed interest from the general public, whether accidental or a natural evolution, it doesn't matter. Everything from coffee commercials to teleserye theme songs are now all about rock bands. Not since the reign of The Eraserheads, arguably the most influential band in the Philippines ever, have we seen this much brouhaha.
It's a good time to be in a rock band.
If anything, we should celebrate the end of Lito Camo's streak of irritatingly ubiquitous pop songs that degenerated company Christmas parties to Spagetti, Ocho-ocho and Yeye Vonell dance fests. What were the Filipinos thinking? I mean, I'm actually surprised it lasted as long as it did. Pop culture in our third world country, was, for a short but tortuous time, revolving around nursery tunes sung to absurd lyrics with embarrassing dance moves to boot! Everyone, from politicians, to matinee idols, to the local drunk at Manang's sari-sari store was dancing to it. At least the local drunk had his excuse. What about the rest of the country? Of course, it simply couldn't last. Not even April "Boy" Regino late jump on the bandwagon could save this musical mutation, I refuse to acknowledge as a legitimate genre, from extinction. Thankfully, the end of kindergarten-pop has arrived.
It's a good time to be in a rock band.
If anything, we should also celebrate the end of the band subgroup that I almost thought would forever rule the entertainment strips, the show band. Bands that, for years and years and for weekend after weekend, almost exclusively played party covers. These bands ruled clubs and parties for a long and almost as painful a time. This iteration and twisted version of the band formula was almost always fronted by good-looking girls, or at least girls who could pretend to be. They almost always opened there sets with the high-pitched call "are you ready to party!" and ended with "see you next week!" I mean for how long can people keep dancing to Fatima Rainey's Hey and not get tired of it. Show bands may have fooled the moneyed, middle-aged crowd along with the corporate sponsors always on the money trail for a long time, but even the partay people in the house can't raise the roof forever. Thankfully, the end of the party band has arrived.
It's a good time to be in a rock band.
If anything, there no longer is one single dominating genre ruling today's current band scene. Louder and badder, isn't necessarily the 'it' factor anymore. You don't need tattoos and a talent for growling to be noticed now. Schoolboy looks and good manners can work just as well today. If anything, some bands have even thrived projecting a softer, sadder side. For them, why go dirty when you can look 'pogi', and since for many, quiet is the new loud, why not more poetry than obscenity. But more than all that, it's this band generation's diversity that strikes many observers. The gamut is now wider and more evenly filled up along the whole genre spectrum. Mod, emo, reggae, 'pogi', dunk, you name it. Unlike previous generations, there is no single supergroup like Juan de la Cruz band of the 70's, The Dawn of the 80's, or Eraserheads of the 90's. Everybody can lay their own claim to fame, whether with a single hit or even just a single gig, it is everybody's game now. Finally, the democratization of local band music has arrived.
It's a good time to be in a rock band.
They say there is an old Chinese curse that says: may you live in interesting times. For the band scene at least, these are definitely interesting times. For so long, underground bands have struggled to keep the scene alive and promoted its music against all opposition from the armies of plain bad taste. Now, finally, bands have emerged triumphant and recognized. Ironically, the noon-time shows and sitcoms we've accused of being the purveyors of cheap entertainment have once again infused bands into their scripts and programs. Once again, bands rule the pop culture endorsing fast moving consumer goods in TV commercials, the traditional territory of the famous and the famously clueless celebrities. Once again, hordes of fans now troop to stadium-sized concerts to watch gigs. Once again, band albums, original or pirated, are selling by the thousands.
Once again, in the Philippines, bands have become cool. Which now begs the question, for how long? Now that we bands have gotten our wish, are we prepared to give the Filipino public the better alternative to all the entertainment crap they've suffered because they didn't know better? Or are we doomed to blow our chance, degenerate and become embarrassments ourselves?
Like they keep saying, careful what you wish for, it might come true.
Posted at 07:20 pm by
bisoy
>Entry link
Thursday, April 13, 2006
Posted at 11:59 am by
bisoy
>Entry link
Monday, April 10, 2006
I try not to believe in omens. I've always thought myself a believer in logic and science. I've argued to myself that my string breaking in the middle of the debut of 'Monolove' was nothing more than a random event. Not at all dictated by some invisible force trying to give us glimpses of the future, but simply just another case of f**ked timing.
Still my gut-feeling overwhelms my calculating brain and I find myself suspecting manipulation by the netherworld. After all, I spend probably at least five times more minutes playing my guitar on rehearsals than on actual gigs so that makes it a one in five chance of a string break happening during a live show. And why breaking on that one particular song out of the ten in our set list that night, compounding the chances down much further. The one song that I had looked forward to playing live for quite some time was ruined for me.
We kept playing of course. I'm sure most of the people there that night never noticed anything wrong. My bandmates certainly didn't. My other strings kept their tune quite nicely so my strummed parts hardly differed. Plus, it's not like they heard the song before. Still, my issue wasn't that the audience experience was ruined. It was that mine was. Even though I didn't write this one song, Boobop takes credit for that, it had become a very personal one for me.
My B string had broken at the exact worst time for me so now I can't help but ask did that augur something bad for the song. This happened last Thursday during the Flowerfish party at the Vudu. Maybe it should now be spelled Voodoo.
Hocus-pocus or just me being antsy-pantsy, I should just forget it and go on. The show was after all a success. Surprisingly, it being a Thursday night, the place had filled up by the time we took the stage. A well dressed and well-perfumed crowd that looked more at home in a club than in a rock concert, yet they had come for us. After all these years with the band, I still find myself surprised that people actually come to watch us play.
Everything else had gone well after all. The opening bands were great. Refrain was well received and Sarah Smith was her usual impressive presence. The 'Clever as you' video we launched that night wasn't bad. Given that the production had failed to shoot many of the planned sequences in the original storyboard, Arthur of Style Assembly still managed to come out with a winner. We even managed to hook up for more gigs that night. An April 20 at the Vudu again with Urbandub for their homecoming concert, a gig with the club next door for an exclusive brand sponsored event, plus some exciting news about our song 'Maude' making it in the soundtrack for an indie film recently shown in Stockholm.
Could there be another break in the offing? In the end, I guess it's all just a matter of perspective. Mine has always run the gamut of both extremes. Pragmatism on one end and superstition on the other depending on what I had for breakfast. So then the story of our band can be told in two versions depending on whether a pessimist or an optimist is telling it. It can be about a bad history of breaking strings. Or it can be a lucky string of breaks.
Posted at 12:04 pm by
bisoy
>Entry link
Thursday, March 30, 2006
One of the most reliable yardsticks for measuring the pop appeal of a song is how long we can successively jam it on a string of sessions without getting tired of hearing it. For some songs, boredom eases in about a few sessions, which is why we sometimes alternate the songs that we work on. For some songs though, we find ourselves liking it the more we keep attacking it in the studio. That has been the case for the last song we've been working on.
The working title is Monolove. Its the first song Boobop wrote that we've jammed. I imagine there's more coming. It's one of those songs that you instantly like hearing for the first time.
What's it like?
Very difficult to describe. For one thing, its nothing quite like what SATI is used to. We do find the song very comfortable to play though, so that says a lot. It's a study in simplicity. Vocalization of the song lyrics though, took me a long time to get used to. I honestly found the Boobop's melody difficult to predict, a total departure from the way I write my melodies, which caused me no small amount of difficulty. Not a bad thing though. In fact, probably the main thing I liked about it.
It's not a formulaic composition in the sense that it relies on anthemic passages but in its spirit, it is. To give a hint of the sound without giving too much away, Boobop kept reminding me, as I was mastering the melody, to think Frank Sinatra. Such a challenge indeed.
Posted at 08:52 am by
bisoy
>Entry link
Wednesday, March 29, 2006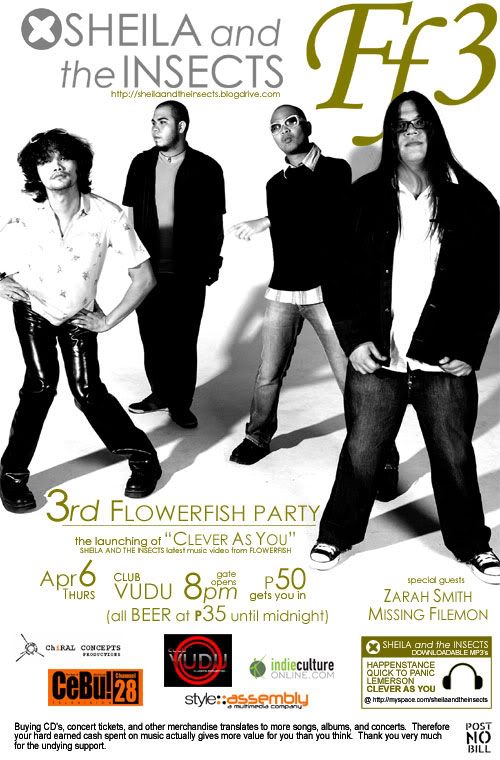 Posted at 07:53 am by ian
>Entry link
Tuesday, March 14, 2006
Clever as you video shoot
The props list included, among other things: a goldfish, 3 or 4 extra fishbowls, glossy magazines, popcorn, blue plastic glasses, Smint breath fresheners, potato chips, a few mixed drinks, and beer. The video shoot was slow to start. It was, after all, siesta hour, 3pm. When it finally got rolling, the first to quickly run out was beer. Everyone was having their fill (including me), which accounted for the quick drain. Before long, people started improvising with rhum coke. Way better than drinking soda.
I think without discussing it openly, everybody sort of came to understand that if we were going to shoot a party scene anyway, we might as well down drinks and do it for real. That way we wouldn't have to act.
Besides, none of the guys could dance dead sober. The building beer buzz in our heads could hardly help the fact that we all had two left feet each but at least now we cared less. The confusion made for quite a few hilarious scenes. At least the horrible dance moves could be edited out. The girls, yes, there were girls, all looked great. Dancing or as wallpaper, they looked fabulous.
At one point, magazine pages were torn up and thrown all around. A few minor spills here and there, and some flying popcorn later, the owner of the house arrives. Just in time to see his whole rearranged sala littered with torn magazine pages, popcorn and half-drunk guys. At least the girls distracted him some bit. I think. That effectively put an end to the partying.
Too bad. I think a few more bottles and we would have started trashing the three Porches and a BMW in the garage. That would have looked way cool in the video. So we ended early and called it a wrap. Arthur, the director, decided we could always shoot the other scenes some other time.
I asked: "Can I keep the goldfish"? "No, we still need to shoot it", was the retort.
Posted at 01:21 pm by
bisoy
>Entry link