---

Welcome to the official blog
and website of
Sheila and the Insects

HOME
PREQUEL BLOG
ALL LYRICS BLOG
(new) MAUDE video
QUICK TO PANIC video
CLEVER AS YOU video
TOMORROW NOT TODAY video
QUICK TO PANIC (MyxMO!)
HAPPENSTANCE (MyxMO!)
NAPSTER SONG LINKS
PESM - DOWNLOAD
MANIPULATOR - DOWNLOAD
FLOWERFISH - DOWNLOAD
SOFTLY - DOWNLOAD
---
---
MOST READ ENTRY
Bisrock brouhaha
---
ARTICLES ON STARTING YOUR OWN ROCK BAND
Things you should know
Tips on playing in a rock band
Dirty tricks for rock bands
PICK ENTRIES
Cebu music's golden age
Handuraw farewell
Aktibistas & rakistas
Bisrock brouhaha
Winning attitude
The killing time
Dirty tricks for rock bands
Sex, drugs & rock 'n roll
Tips on playing in a rock band
The Philippine Bandemic
Message to the disenchanted
I am a believer
Popular notion
Media-slaves
A dirty game
Mao caps and shaved heads
Surprise number
Unfairly labeled
Art or entertainment
The black army
Things you should know about starting a rock band
Quiet revolution
Proud arrogant prick
The greener grass
Love and rock
The Gweilo's experience
Rocklandia
On band etiquette
On Cebuano lyrics
On Cebuano fans
On music piracy
On the stage
On indie
Official etymology/who's Sheila?
Sex in music
Money in music
The death of indie
The universal axiom
Addendum: recalculation
Physics of creative momentum
Reason for being
Advertising vis-à-vis music
Ian Zafra mugged
Of chicken holes...
Eight
Doing Disco
Local, vocal, proud?
Killing the disco
[ back to main page ]
---
READ OPENING ENTRY

My most hated band
---
WHAT THEY SAY
ABOUT THE BAND
"I didn't like the name but it doesn't matter. They played great band music."
- Nina Araknida
Sunstar, Flip / September 15, 2002
"Few rock bands in town could stand at the crossroads of a dynamic and evolving music scene and knock down the high walls that divide music genres and audiences with as much success as Sheila and the Insects. "
- Ronald P. Villavelez
Yup!, Issue 1.03 / November 2001
"Sheila & The Insects' music is new wave-influenced post-punk rock music that is considerably heavy yet still melodic "
- Cris O. Ramos Jr.
The Manila Times / May 31, 2003
"What does an indie band do with the oft-maligned mix of rock and new wave? In the case of Cebu-based Sheila and the Insects, plenty."
- Ganns Deen
PULP , PulpReviews / Issue 13, March 2001
---
Orven Enoveso
Ian Zafra
Jerros Dolino
Sheila and the Insects
Promote Your Page Too
---
IAN'S BLOG
My Favorite Sins
MY OTHER BLOGS
Vintage SATI
SATI lyrics
My Writing Exercises
Text jokes
BLOG LINKS
99.5RT Sunday Sessions
CD review
The Pin-up Girls
Girl in Park
Squirrel Talk
Not quite indie
Two is equal to zero
SITE LINKS
SATI MySpace Page
SATI Auralgasms
SATI Yahoo Group
SATI Purevolume Page
SATI Fiestamundo Page
SATI Friendster Page
IndieCulture Online
Last.fm
Madbanana.tv
NA Records
DMC Ringbacks
Wats
Filipino Links
RockEd
Diaper Dog Pictures
Trekant Film
Eksena.net
BAND LINKS
Cattski
Hastang
Julieplug
Jr. Kilat
Orange and Lemons
Smooth Friction
Squirrel Talk
Typecast
Urbandub
Wolfmann
Ciudad
Missing Filemon
JUST FOR KICKS
Real band riders
Faking indie expertise
The Onion
How to dance properly
Shaving tip
INTERNET RADIOS
RadioGetsWild
IndieRadioLive
Pinoy Radio
Go Listen Live Indie Music
PALS
SATI Pimp
Moon child
Doogie
Oppression
Kady Gurl
Rxprozacstination
Christine
Torch the skies
Sunnystateofrelief
Last dodo bird
Pia
Inkblots
Indieridley
Rhea
TruePinoy
Guile
Corinne
Divine
MadKane
Pinoy Investing
If you've got a blog you want linked here, let me know. Email me now
---
Discography
---
SATI myGlobe ringback tones
TO DOWNLOAD:
Simply text [CODE] to 2332. Ringback will be activated within the day. P30 for 30 Days or 1 peso per day.
CODE
SONG TITLE
DA494
Everyday Drive
DA493
Count With Your Fingers
DA492
Your Comedy
Pre-listen for FREE at
www.dmc.ph
---
THIS MONTH'S LYRICS
Softly
Sheila and the Insects
Originally by Apo Hiking Society
:: Download SATI version ::
:: Original Apo version ::
Written by Jim Paredes


Softly, as the morning sun
Comes through my window pane
Thoughts come to me
Memories of you fill my mind and I smile
So gently, and my world transforms
Into a merry carousel
Turning me round
Bringing me back to the place where I found ...
You there, time could have stood still and then
We'd spend all our moments to share
The dreams that we've known sometime, somewhere
And as, we go through the days
Remembering the love we made
I know that you'll stay
Bringing me more than what mere words can say
I know, that time can stand still and then
We'd spend all our moments to share
The dreams that we've known sometime, somewhere.
I know, that time can stand still and then
We'd spend all our moments to share
The dreams that we've known sometime, somewhere.
Notes:
This song appears in the album The Best of Kami nAPO Muna 2CD+DVD.
---
Site Counter
---
Tuesday, October 31, 2006
I recently wrote a speech espousing beer drinking in school. Another one of our weekly writing exercises. This is a (shameless) plug of my other blog where I post my work every week:
mywritingexercises.blogdrive.com
.
Here's the link to the article:
Exercise 11 - Speech writing
Here's an excerpt:
Today as I look to our students, all bright-eyed, sprightly, well-mannered, and promising leaders of tomorrow, I feel a sense of shame. Yes, you heard me right. Not pride, but shame. As a member of this proud institution's faculty, must we, year in and year out, spawn a mass of graduates who are nothing but nerds and wimps! Yes, nerds and wimps they all are! Impotent and utterly malleable.
Hope you guys can drop by and tell me what you think. Thanks.
Posted at 07:40 am by
bisoy
>Entry link
Jimi Hendrix, Janis Joplin, and Jim Morrison of The Doors all suffered drug-related deaths at the age of 27. In 1994, Kurt Cobain was killed also at the age of 27, whether suicide or murder is still being debated up to this day. Their tales bring to mind Neil Young's famous "It's better to burn out, than to fade away." Live fast and die young; the story of their lives. They were victims of their times or psychedelic influence or both. In any case, theirs was a grand if not poetic way to go, to die at the peak of potential and popularity. "Forever 27" and "27 Club" have from thence become popular cultural references.
Around the time our song 'Everyday Drive' came out which was years ago, I was 27 myself. It's hilarious in retrospect but back then, I remember that at some point I actually considered suicide. I pondered the idea for maybe less than 3 seconds and quickly discarded it like I would flick away a consumed cigarette suddenly burning my fingers. Who was I kidding? We weren't famous, and we still aren't! More to the point, I was a total wimp, and I still am! I would have been too scared to even think about actually doing it. But the fact that it crossed my mind, even fleetingly, surprised me to no end. Back then I was poor, reckless and desperate. Maybe that's why my imagination went wild. I was many things but thankfully, mentally unbalanced wasn't one of them.
After a rough fulltime two-year stint in Manila, we left to settle back here in Cebu. I then pursued a career in advertising and marketing. I could never make enough money from playing in a rock band so a day job was my answer. That way, I wouldn't have to rely on my music for a living. Still, it was a choice forced by circumstance. If the breaks had come our way then, I'd have probably chosen differently. Then again considering how unforgiving the local music industry is, probably not.
In this humble country of ours many still consider to be Third World, there are no multimillionaire rockstars, although we do have an unlimited supply of corrupt bureaucrats but that's an altogether different story. The scale of what you can theoretically earn from playing rock music in a country as small as ours is limited if not dismal. In bigger economies like in the US, you could have a single hit and live off the royalties for the rest of your life. Hardly the case here though.
Consider the difference in the sales certification thresholds. In the Philippines, a platinum album here has to have sold 100,000 copies. Actually, probably less since record labels will often practice 'creative accounting' (spelled bloating) of sales figures. In the U.S. though, an album is only certified platinum if it sells ten times as many, or a million copies. That tells you a lot about the differences in scale. And let's not even begin to discuss the differences in what you can potentially earn in gigs.
So I am a musician, or at least I try to be, in a country where music doesn't pay much and the surest way to make money from it is by selling pirated CDs on sidewalks. Things could be worse. For me, I could have killed myself for a grand illusion and passed away quietly.
For practical and other obvious reasons, I strongly recommend keeping a dayjob while playing in a rock band. It helps keep frustration and disenchantment at bay. Probably the cruelest twist in a musician's life is that he ends up hating his music because it doesn't feed him. Music shouldn't be pursued for the money but for its own sake.
Music loses its honesty if it is treated as livelihood. On the other hand, music is at its truest, if it is treated as life itself. In closing, music then should not be for one's sustenance; music should be for one's soul.
Posted at 07:20 am by
bisoy
>Entry link
Thursday, October 26, 2006
Local radio, particularly Smash FM of late has been playing a lot of Bisrock, supposedly short for Bisayan rock, a new genre that traces its roots to Max Surban and Yoyoy Villame, the kings of novelty and Cebuano song. Both Max and Yoyoy however are master songwriters and witty humorists. Most of the current songs however, being overplayed by the local stations, are products of unimaginative songwriting and humor that is painfully dry, and at best, insulting.
Let me stress though that I say most and not all because ironically, the band that arguably started this whole movement, Missing Filemon, is a very talented group of accomplished songwriters and musicians. And their songs are some of the best examples of intelligently written lyrics with impressive wit with underlying social commentary, and, more importantly, are masterfully recorded.
The rest however, have simply jumped on the bandwagon with haphazardly cobbled together recordings pretending to be novelty songs. Novelty, or Bisrock, is supposed to be music for the masses. Music with accessible lyrics and folk sensibilities. The new generation of bands however don't seem to get it. Accessible lyrics don't mean downright dumb lyrics, and folk or traditional sensibilities don't mean reckless musicianship. I can probably overlook musical incompetence. What I can't stand is bad taste.
And herein lie the differences. Missing Filemon dared to create, while the others that quickly followed simply dared to copy. Missing Filemon spawned powerful recordings, while the others that quickly followed spewed pitiful 'wreck'-ordings'. Missing Filemon started the movement, while the others jumping on the bandwagon are killing it.
I'm sure Insoy, the frontman of Missing Filemon is flattered by the torrent of copycats. But although imitation may be the best form of flattery, parody is definitely the harshest form of affront.
The hardest thing to kill is a bad song. It sticks to your head like bubblegum to hair. Stubborn and ugly. Suffering from LSS or the Last Song Syndrome with a terrible song played over and over again is the meanest of torture. You can drown out your neighbor's pathetic karaoke singing by putting on earphones and jacking into an iPod but you absolutely cannot drown out bad music that's playing from inside your head.
If only for this reason, there should be an ordinance regulating local radio. Since there's an ordinance that requires the playing of proudly local music, there should be one that bans the playing of embarrassing local music as well. Or isn't there an ordinance against noise pollution? Although we can measure noise in decibels, alas, we have yet to invent the 'cringe-o-meter'.
The only good thing I can say about Bisrock is that it is intensely popular. I add, too popular, too fast. Of course, we all know it can't last. So sudden has been its rise to popularity that that in itself will become its own downfall. Aided in no small part by Bisrock's current onslaught of mediocrity.
In physics, the velocity of any projectile at a given height is the same going up as it is going down. So the faster you shoot up, the quicker you die down. I suspect the laws of physics hold true with the Cebuano music scene. If I am right, then I am comforted at least in the fact that all this brouhaha that we now suffer will not last too long.
Posted at 01:40 pm by
bisoy
>Entry link
Friday, October 06, 2006
An account of our band practice this week
Posted at 06:40 pm by
bisoy
>Entry link
Tuesday, September 26, 2006
What we are seeing now is the fallout to the atomic explosion of the current band scene. We are seeing so many brands endorsing bands or the other way around, whichever way you see it. From strong beer to roll-on antiperspirants to twister fries. Not surprisingly, band contests are everywhere now. Even the local town fiestas are following suit. Gay beauty contests couldn't last, thank goodness for that. Out of tune guitar strings are hugely more bearable than out of place g-strings, forgive the ugly pun.
Just last week, we were involved in one of the many big band contests this year as our band was invited to play as guest performer. The Nescafe Soundschool had held its Visayas finals in three venues for three consecutive nights here in the city.
As I looked at one of the competing bands play one night, I couldn't help but see in them our band ten years ago. Outwardly confident, I could plainly see the stage attitude disguising nervousness. Their haughty stances were betraying self-consciousness and uncertainty. To me it was louder than their distorted guitars. I could see through them because ten years ago, I was in exactly the same place.
In 1996, San Miguel Beer put together the "Battle of the Bands". It was, back then, the biggest band contest for amateur bands held nationally. Of course, us being young and not too bright, we didn't see it for what it was – a rare opportunity. Our natural instinct was to snub the contest. We were already playing regular gigs in Artist Dais, which in retrospect was Cebu's version of the famous Club Dredd of Manila, so naturally we thought ourselves above joining such a folly. Like I said, we were young and not too bright. Fortunately, we were also malleable. So when people, including the organizers, started egging us to join, we conveniently changed our minds and readily judged band contests as not uncool anymore.
We joined the first round with little enthusiasm. But when we won that round and the next, we decided to take the contest seriously. We invested in longer rehearsal hours and put more focus in our playing. We also put in a lot of effort into arranging our contest pieces. In short, we polished our act.
We ended up winning the Visayas round together with PG-18 as runner-up. We then flew to Manila to play against the other regional champions. A day before the finals, all the bands from out-of-town were given studio time to practice their pieces. It also gave all of us the chance to size up each other. We quickly realized then that the Cebu bands were the strongest contenders. Even the other bands said so.
But on the day of the contest, our fortunes changed. At the outset, we sensed that the Cebu bands were being discriminated against. The first sign was the order of contestants. The order slots were supposed to be drawn by lots but the organizers simply "handed" to us the first and second playing slots. Not exactly the best slots to play in a contest. What's more, the organizers automatically awarded the last playing slot to a band that didn't show up for the drawing of lots, which gave them the automatic advantage.
Worse, when the suspiciously late band arrived at the venue, their manager openly socialized with the judges and the event organizers, which puts in question their collective impartiality. Skipping the details, when the winners were announced later that evening, everyone, especially the audience judging from their astonished reaction, was surprised that the top plum was awarded to Make Your Mama Proud or MYMP, the last band to play. The whole event seemed scripted and stunk.
Whether the conspiracy was real or imagined, we as a band were dealt a painful blow. Personally, I felt cheated. Since then I viewed contests with disdain and suspicion. We had played our best set that night: our song "The Preach", plus we covered The Bible's "Crystal Palace", and The Church's "Under the Milkyway" only to be beaten by a band that played, among others, the theme song to "Power Rangers". I'm not kidding.
It was funny really, thinking about it now. But back then, I remember it was a searing experience. It had become a turning point for our band. Our attitude towards musicianship and showmanship would never be the same again and although we had lost, we quantum-leaped in maturity. Of course we also became cynical and jaded but that's ok. A little angst never hurts in songwriting.
So now, looking at these young bands playing their hearts out, I wish I could tell them that, win or lose, the experience itself is the biggest reward. Among a lot of valuable lessons, you learn that winning in contests isn't about playing a technical set as much as it is playing a tight set. You learn that choreographed moves will always look contrived, even funny and that it's more important to be confident and comfortable up there. You learn that it's not about performing rather it's about having fun. You learn that in a band, you've got to support each other to bring out the best from your music. The lessons are endless and invaluable.
Contests may not always be fair as judging performances will always be subjective. The important thing though is that you do not dwell on how you are judged by others. For in the end, it is how
you
judge yourself that determines how your band will fare, not just in any contest but throughout the band's career. How a band sees itself and how it views its music determines its attitude and character. It is this attitude and character that will eventually reward you with future successes.
In music, as it is in life, character is destiny.
Posted at 07:06 pm by
bisoy
>Entry link
Monday, September 18, 2006
Well, it's official now. I finished relayouting the Flowerfish design onto the regular CD configuration. For those who bought copies of Flowerfish in the digitray version, hold on to those dearly as the next reprints will be in the regular CD case format. Same retail price mind you.
It's like having bought the same book for the same price in hardcover edition. The ones coming out from now on will be paperback. Forgive the crude comparison but it's the best I could think of.
Officially, Daybreak records will be distributing Flowerfish now and we'll be doing it through EMI's distribution network. The good news is we finally get to distribute to the provinces where our CD's never reached like Davao, Cagayan de Oro, Iloilo, Bacolod, etc. At least that's what we've been assured.
Posted at 03:05 pm by
bisoy
>Entry link
Friday, September 15, 2006
Sushi versus sore throats
I found myself happily feasting on sushi. We had taken a break after playing our first set during the wedding reception where we played as the wedding band. Mark Ladanan was sitting in for Jerros who was out of town for the week. Considering that we had only been able to practice for two sessions prior to playing tonight, Mark did an impressive job.
The thing I struggled with though for the whole week was my voice. I was suffering from a bout of stubborn flu and persistent coughing which made my voice hoarse, my throat stiff, and my nose runny.
For the longest time, this has been the worst condition I've been in playing a gig. Normally, I could sing through a small cold but this bug I caught was different. I really sounded sick even when just talking. If this wasn't an important gig, I'd have begged off but it was. This was a gig booked several weeks in advance and we couldn't back out.
Maybe I'll feel better after I finish my plateful of Japanese. Eating is supposed to help you salivate and therefore should help moisten your throat. When we do the first dance in a bit, I'll soon find out.
Posted at 01:19 pm by
bisoy
>Entry link
Thursday, September 14, 2006
SATI wallpaper by Pixelputa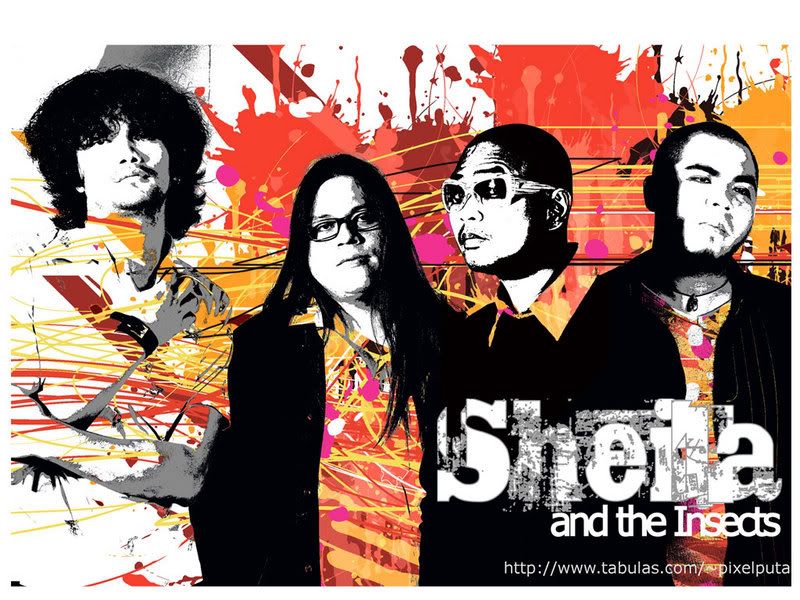 to download, click HERE
Posted at 07:28 am by ian
>Entry link
Thursday, August 31, 2006
Flowerfish with a one-night-stand to boot?
We're still debating what to do with Flowerfish now that we're in the process of getting released from our distribution deal with V3/Viva. The main issue is whether we do a reissue of the album to include new previously unreleased tracks or do we just reprint it and improve our distribution nationwide which was our main problem to begin with.
One of the things Ian suggested over our online discussions, online being the only way we get to discuss issues sometimes on long stretches because of our busy schedules, was that instead of a new track, we could simply include additional items with the album. A few things he suggested were a postcard, a SATI sticker, a chance to win a SATI T-shirt, and (in jest) a certificate for a one-night-stand with a SATI member.
Purely for abstract discussion, would that last item be of value for fans? Who gets to choose who and who approves who? Will we need to issue priority numbers or not at all and just work faster. (Dream on, yes, I know what you're thinking, but hey, this is exactly that) And where and how to arrange the deed and who pays for the bill? It's a logistical nightmare. So I guess it is just best to drop the idea no matter how original.
Posted at 11:29 am by
bisoy
>Entry link
Wednesday, August 30, 2006
The killing moon
Will come too soon
Fate
Up against your will
Through the thick and thin
He will wait until
You give yourself to him

- Echo and the Bunnymen, The Killing Moon
The killing time has come. The local band scene will struggle against another coming dark age. Bands will slowly find themselves pushed into corners unwillingly, like a trapped boxer, forced against the ropes. Blinded by the fleeting glory of being in the spotlight, they will all too soon realize that they are losing out at the scorecards. The next well-landed straight jab could very well cause a knock out.
In the face of the sudden wave of band 'commercialization' sweeping through our pop culture of late, you won't need to study societal trends or statistics to predict that the bubble will soon burst. Yes, it is a natural cycle but helped along just the same by negative forces like Echo and the Bunnymen's metaphorical "killing moon". Bands won't realize until it is too late that the biggest killer of the music scene isn't the media, or the critics, or the tasteless and faceless 'masa'. Funny enough, all too often, the reason why the band scene gets killed is - drum roll please - the bands themselves.
History repeats itself yet the problem isn't that history is a poor teacher; it is that musicians are poor learners. And what does history teach us? Plenty.
Bands are born in clubs and they live off clubs. Deny him that and he starves, musically and financially. The biggest bands no longer need the quintessential club. They play for much larger audiences and gigs already. But nevertheless, most of them will have started playing in the small clubs. Even the biggest bands still sneak a quick bar gig every now and then not for the money but for the fun of it. A venue where music can be regularly showcased is absolutely essential to a scene.
But the bands themselves are killing the clubs, or at least some bands are. By allowing themselves to be exploited by club owners by agreeing to play for free or for measly fees, they set an ugly precedent that slowly erodes the quality of gigs. This, since decent bands typically never play for free. Audiences never come back to the same venue to watch bands that suck. Why should they when they pay good money for a good show. Keep putting out bad shows and the audience will be a no-show. It's as simple as that.
I've seen this cycle many times before with the big clubs and venues of Cebu's famed old band scene. Not surprisingly, none of them are around anymore by the way.
Aside from clubs, radio can also provide that essential venue for showcasing music. But as local musicians here know, radio sadly is rarely trend-setting. Blindly relying on billboard charts and other dictates of the pop culture, radio rarely takes the driver's seat in supporting genres or movements and will often be content to ride on the latest wave. The usual cycle is that a music form will start underground and will slowly permeate pop culture. When it becomes too big a scene to ignore, radio will play it and claim it as its own.
Radios often claim you "heard it first here" when really all they can claim is they broadcast it ahead of the other stations, if at all. More often than not, you really only "hear it first" in the small clubs and venues. Like I said, bands are all born in clubs. In any case radio is still radio and although bands aren't born there, they grow there.
But the bands themselves are also killing radio, or at least some bands are. By submitting substandard music to the stations, either awful recording or just plain awful songs, which still makes it awful recording since you're not supposed to record crap, they set an ugly precedent that slowly erodes the quality of radio. You know the rest.
Bands that don't put value into their music or their performance will end up being exploited. A band has to define its worth. If not, a band ends up being worthless. A band's value then is dictated by the band itself. Not by the promoters or the club owners nor the audiences. Let them dictate your value and it would be like letting go of your end of the rope in a tug of war, you lose by default.
As a closing message to all bands, whether newcomers or the more-established ones, it is not a question of knowing your place. Really, it is a question of choosing where you stand.
Posted at 08:42 pm by
bisoy
>Entry link